Atrium Health Navicent Beverly Knight Olson Children's Hospital to serve as an anchor in downtown Macon


Navicent Health today announced $5 million in support for its new Children's Hospital facility from the John S. and James L. Knight Foundation and Beverly Knight Olson, a Macon philanthropist and loyal supporter and volunteer at Children's Hospital, Navicent Health for more than 25 years. Olson is a daughter of Knight-Ridder newspapers' founder James Knight. The hospital's new facility will be named the Atrium Health Navicent Beverly Knight Olson Children's Hospital, Navicent Health to honor her contributions.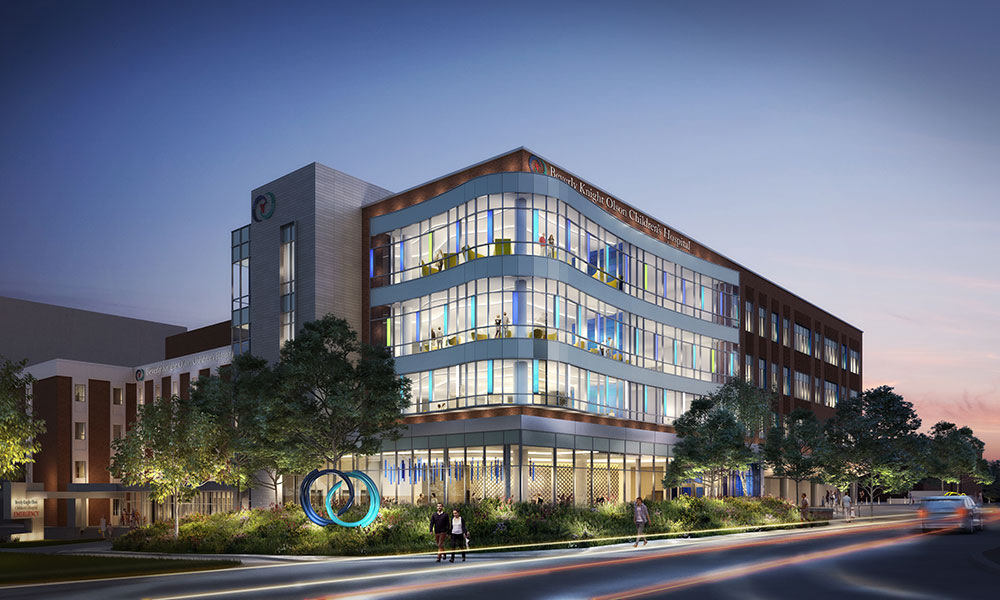 "When you consider someone who in Macon epitomizes selflessness and compassion, the first name that comes to mind is Beverly Knight Olson," said Ellen Terrell, chief development officer of Navicent Health Foundation. "We could not think of a more fitting person after whom to name our Children's Hospital. A gift of this magnitude from Beverly Knight Olson and Knight Foundation will propel this campaign to the next level, and we know others will follow their lead to help make this new Children's Hospital a reality for families in central and south Georgia."
"When we think of the children who trust us with their care and the standard we charge ourselves to live up to, there is no higher bar we could set for ourselves. Beverly is deeply involved in the Macon community, and has been a faithful and active supporter of Children's Hospital for many years," said Dr. Ninfa M. Saunders, president and CEO of Navicent Health. "She was instrumental in establishing our Safe Kids Bibb County program, as well as our annual Golf Classic fundraiser. We are thrilled to name our new facility in her honor, not only for her generous financial support, but also for her many years of hands-on care for our children and their families."
Olson is committing $1 million and Knight Foundation is investing $4 million in the new hospital.
Navicent Health is currently Macon-Bibb's largest employer. With more than 45,000 visits projected annually, the state-of-the-art institution will attract new talent to Macon and serve as an important anchor in the community. It will contribute to downtown Macon's transformation, adding to Knight's previous investments in the city.
"Jack and Jim Knight were deeply committed to the success of the communities where they built their business and lived their lives. The Atrium Health Navicent Beverly Knight Olson Children's Hospital, named for Jim's daughter, promises to bring new opportunities and talent to Macon, helping to build a stronger future for the city and the region," said Knight Foundation President Alberto Ibargüen.
In June 2016, amid a climate that has seen a number of hospital closures and limited hospital expansion,
Navicent Health announced its intent to construct a new Children's Hospital facility, with plans to begin
serving the region's patients in 2019.
Since 1987, the nonprofit Children's Hospital, Navicent Health has been committed to enhancing the lives of children through excellence in patient care, research and education. The only dedicated pediatric facility in central Georgia, and one of the most comprehensive in the state, it provides care in general pediatrics, pediatric critical care, neonatal intensive care and outpatient services. The hospital also serves as the primary teaching site for the Department of Pediatrics at the Mercer University School of Medicine.
Due to a growing demand for additional service options, Children's Hospital, Navicent Health has outgrown its current facility, constructed in 1962 and designed for adult healthcare. Navicent Health's vision is to construct a new facility in order to expand services in a hospital designed to meet the specific needs of children with illness or injury.
The new hospital, to be built on the current site at 888 Pine St. in downtown Macon, will be a larger facility with the latest equipment and technologies.
"Children are not small adults. Their health needs are different and are constantly changing," said Dr. Josh Glenn, the hospital's director of Pediatric Surgery. "With a proven track record of providing excellent care, we are faced with the need to replace the current facility. We are committed to comprehensive, excellent care delivered by highly trained, board-certified pediatric physicians and clinical staff. We look forward to providing care in a new, world-class facility."
With gratitude to Olson and her generous support, Navicent Health continues to seek philanthropic support in order to make its goal a reality.
"Children's Hospital, Navicent Health has always relied on philanthropic support, and we are grateful to our donors for their commitment to Georgia's most fragile children. Each gift made to the Beverly Knight Olson Children's Hospital campaign will be an investment not only in the children of today, but for the generations to come. Whether it is a premature infant born at less than one pound or a teenager recovering from an automobile accident, donors make a significant difference in the lives of our precious children. My family and I have been pleased to support this wonderful organization for many years, and we invite our community to become a part of the growing legacy for children who have and will continue to depend on the specialized care provided by the Beverly Knight Olson Children's Hospital, Navicent Health," said Olson.
The hospital adds to Knight Foundation's previous investments in Macon. Since Knight made a $2 million investment to establish the College Hill Alliance in 2009, public and private sources have invested an additional $25 million in residential and commercial development in the area, a 2012 independent evaluation commissioned by the foundation found. Continued revitalization of the Beall's Hill neighborhood and Historic Macon, improvements to Tattnall Square Park, the development of Mercer Village and Mercer's Center for Collaborative Journalism are among the most visible outcomes of the initiative. These efforts have resulted in more than $97 million in private and public investment since 2009.
The construction of the new Children's Hospital is one of a number of initiatives Navicent Health plans to undertake within the next five years in order to dramatically improve access to high-quality, reasonably-priced care within the region.
About Navicent Health
Navicent Health was incorporated on November 17, 1994, as a nonprofit corporation whose primary purpose is to coordinate the Medical Center, Navicent Health and other affiliated entities in their mission of providing a comprehensive continuum of high quality, reasonably priced healthcare services to the region. Navicent Health has 830 beds for medical, surgical, rehabilitation and hospice purposes. The health system includes The Medical Center, Navicent Health, a nationally recognized tertiary teaching hospital; Children's Hospital, Navicent Health, the region's only dedicated pediatric hospital; Medical Center of Peach County, Navicent Health, a rural critical access hospital; Rehabilitation Hospital, Navicent Health, the region's oldest and most experienced rehabilitation provider; Pine Pointe, Navicent Health, which provides palliative and hospice care in homes and in its facility; Carlyle Place, Navicent Health, the area's first continuing care retirement community; Navicent Health Foundation, the philanthropic arm of Navicent Health; as well as diagnostic and home care services. For more information, please visit www.navicenthealth.org.
About the John S. and James L. Knight Foundation:
Knight Foundation is a national foundation with strong local roots. We invest in journalism, in the arts, and in the success of cities where brothers John S. and James L. Knight once published newspapers. Our goal is to foster informed and engaged communities, which we believe are essential for a healthy democracy. For more, visit knightfoundation.org.