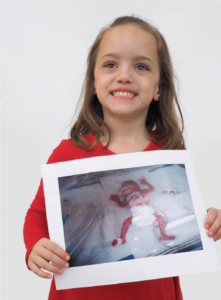 One of the tallest students in her pre-K class, it is difficult to believe that Lizzie was born at 23 weeks gestation.
"The day I turned 23 weeks, she came. I didn't know I was having her and the doctors didn't know because she was so tiny," Mary Kate said.
Weighing in at only one pound and two ounces, frail Lizzie required extensive medical care. She remained in the hospital, and at two weeks of age, was transferred to The Children's Hospital, Navicent Health's Neonatal Intensive Care Unit (NNICU) for an operation. "Because of her situation and how critical she was, they kept her there. The Children's
Hospital was just more equipped for her situation," said Mary Kate.
She remained on a ventilator for about six weeks, and then began transitioning to breathing on her own.
"The nurses in the Neonatal ICU took the absolute best care of Lizzie. Her primary nurse took her job very seriously. She made sure Lizzie received the best care and treated her like her own. Four years later, we continue to keep in touch with her," said Mary Kate. Lizzie has participated in occupational, physical and speech therapies since leaving the hospital and has continuously made great strides toward recovery.
"It has been amazing to watch Lizzie reach and surpass her milestones. She crawled on time and she walked for the first time the day that she turned one. We were told there was a very small chance that she would reach milestones on time, much less surpass them," said Mary Kate.
The NNICU at The Children's Hospital, Navicent Health exists to make stories like Lizzie's possible.