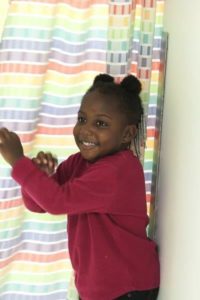 When four-year-old Jael was 18 months old, she contracted the flu. While caring for her daughter, Chamekia Wallace noticed a symptom that is not typically associated with the flu.
"Her mouth just became really mushy on the inside," said Chamekia, "so I took her to the emergency room in Dublin, and we realized that her platelet count was very low but her enzyme levels were too high."
A referral to Hematology Oncology Place of Excellence (HOPE) for Kids, Navicent Health led to a diagnosis of congenital amegakaryocytic thrombocytopenia (CAMT), a rare inherited bone marrow condition that Jael was born with. Children with CAMT cannot produce the platelets needed to make their blood clot, and in some instances, their bone marrow also stops producing red blood cells.
Chamekia and Jael have visited HOPE for Kids and Children's Hospital, Navicent Health for the past three years, and for the past 12 months have visited each Thursday so that little Jael can receive crucial platelet transfusions.
"That's guaranteed when we come. We're never not going to have platelet transfusions. Her blood doesn't clot so she has to have the platelets every Thursday. And once a month, she receives an antibiotic through an IV also," said Chamekia.
Blood transfusions also accompany the treatments from time to time. Jael is currently waiting for a bone marrow transplant that would bring an end to the treatment cycle to end and allow her to carry on a normal life. Because she could easily bleed internally, there are many things that Jael is not allowed to do. She cannot ride a bike, jump on a trampoline, or do other common childhood activities. Chamekia vigilantly watches her daughter, aware that the slightest bump or bruise could be catastrophic.
Through it all, Jael is used to living with the condition and handles her weekly trips for transfusions well.
"She knows that every Thursday is hospital day because she's sick on the inside. When most people look at her they don't see someone who is sick. She's a typical four-year-old, just as mouthy and busy as she wants to be. She loves to dance and thinks that her big brother Jordan is the best thing since cereal," said Chamekia.
Jael looks forward to seeing her friends at HOPE for Kids and Children's Hospital, Navicent Health. Chamekia says that she loves each of her caregivers and is excited to see them each week. The visits are all day affairs, with the family arriving from Dublin around 10:00 a.m. and leaving around 4:00 p.m. on the days when only platelets are needed, and as late as 6:00 p.m. if blood or antibiotics are needed as well.
"We will do what it takes to get her treatment. If it means going to the other side of the world, she is going," said Chamekia.