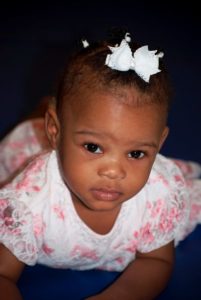 Tenisha and Quintin Moore were excitedly anticipating the birth of twins in the spring of 2015, but received an unexpected surprise when Tenisha went into labor at Christmas time.
"I thought it was a normal Christmas, and that I was just having Braxton-Hicks contractions. I said, 'well, I'll go get checked out so I can get back home' but then I was told that I was dilated nine centimeters. The babies were on the way," said Tenisha.
Because both of the tiny infants were breach, Tenisha was admitted for a Caesarean section, giving birth to a daughter, Hope, and a son, Legend, less than two hours after her arrival at The Medical Center, Navicent Health. The infants were immediately taken to the Neonatal Intensive Care Unit (NNICU) at Children's Hospital, Navicent Health. Born almost four months early, the twins' prognosis was dire. Legend, weighing only 1 lb., 11 oz., suffered bleeding on his brain and did not survive. At 1 lb., 9 oz., Hope suffered a similar hemorrhage, but held onto life as physicians and clinicians in the NNICU did all that they could to improve her chances of survival.
"Dr. Rodriguez and Dr. Bowe provided constant care for both babies, and helped us as we said goodbye to Legend. They were the most involved physicians I have ever met. Dr. Bowe spoke with me while I was in recovery to explain everything, what would happen in the NNICU and tests they would run. I thought that was very nice," said Tenisha.
Due to an illness, Tenisha remained hospitalized and unable to visit Hope in the NNICU, but she found comfort in the personalized care that her daughter was receiving.
"I couldn't see Hope until the end of January. Her primary nurse was named Debra, and I think she was an angel from God. She treated Hope like her own baby," said Tenisha.
When Tenisha was finally able to hold her daughter, Debra was by her side, teaching Tenisha the value of skin-to-skin contact for neurological development, and reassuring her while another nurse, Anna, informed Tenisha of Hope's progress each step of the way.
"Hope was one tough cookie, and the nurses explained everything in detail so that I could make very informed decisions. The nurses kept the NNICU from being intimidating, and with the way they treated Hope like their own, I never worried when visiting hours were over and I had to leave to take care of my other two children," said Tenisha.
Although the first four months of Hope's life were filled with progress and setbacks, she held on as clinicians in the NNICU continuously sought ways to improve her chances of survival. After a shunt was placed in her brain to drain fluid, Hope began to make radical progress and in April 2015, she was discharged with a feeding tube. She has grown over the past few months and is thriving, no longer requiring the assistance of the feeding tube. She continues to visit Pediatric Outpatient Therapy, Navicent Health for physical and speech therapies, and Tenisha and and Quintin are pleased with her progress.
"It was so scary to think she wouldn't have the opportunities in life that our other two kids, who were delivered at term and are very healthy, would have. But we just keep praying," said Tenisha. "She is making progress in therapy, and she's like any other four month old. She's doing awesome – nothing like we had imagined. She is nothing short of a miracle!"